Binghamton Could Be Tim Tebow's Next Stop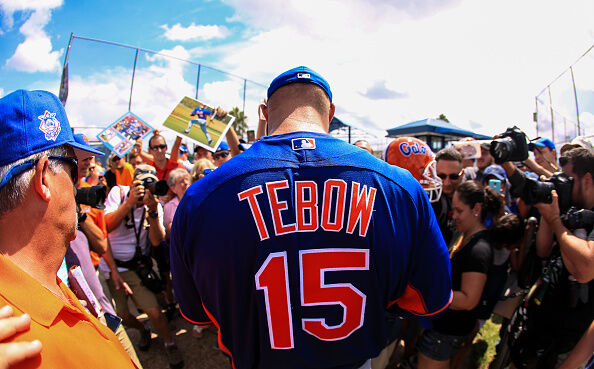 Could we be seeing Tim Tebow hitting the field at RumbleTown USA this season? There's a good chance!
According to a NorthJersey.com report, New York Mets GM Sandy Alderson is fond of Tebow both on and off the field and sees him as a player who could potentially go all the way up to the major league level.
Currently, Tebow is working his tail off in major league camp. The fact he's there at all already shows the team's optimism in his progression. Considering that they trusted him with a camp slot, there's a VERY good chance the Mets will be ready to move Tebow up to their AA affiliate, The Binghamton Rumble Ponies, as soon as the beginning of the season in April.
Regardless of how you assess the former NFL QB and college football national champion as an athlete, it's hard to deny that he is famously friendly anywhere he goes and especially loves kids. In fact, he organized a prom night for a total of 90,000 special needs students at 547 churches all over the world! What. A. Guy.
Here's the catch... we will likely not know if he's coming for sure until a week or so before the season begins. Based on this, we should have some sort of definitive answer in mid to late March.
Even if baseball isn't your thing, would you still consider coming out to NYSEG stadium when it's Tebow time? Count me in!
Listen to Scott on NOW 105.7 weekdays from 2-7 PM.

Scott
Want to know more about Scott? Get their official bio, social pages & articles on NOW 105.7!
Read more