Bad News... John Cena Is NOT Hosting Blue's Clues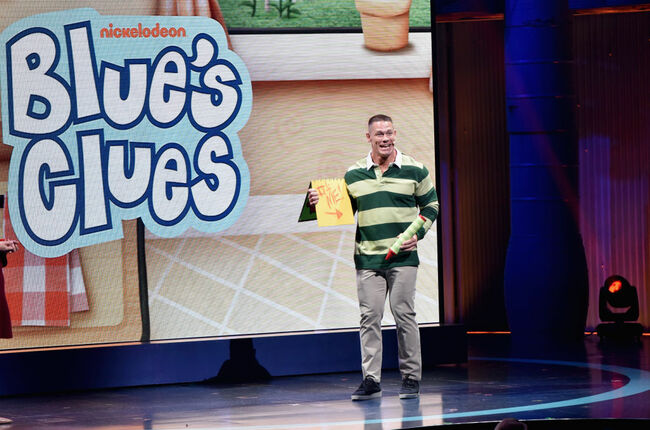 Don't pick up that handy dandy notebook quite yet!
You may have seen pictures like the one above of John Cena donning the most legendary striped shirt ever to grace children's television and thought about how PERFECT the Ferdinand star would be as the show's new "Steve". While the picture is 100% real, it was all done as a joke.
Cena was photographed onstage at Nickelodeon's annual upfront presentation, which is when they show off all the latest new programs in front of a crowd of potential advertisers. According to Jason Lynch at Adweek, the man behind the viral tweet, Cena was at the presentation because he is set to host the 2018 Kids Choice Awards, executive produce a new children's game show on the network, and will be voicing a villian in Nick's upcoming Teenage Mutant Ninja Turtles remake.
The WWE pro stepped onstage in the iconic green shirt as a joke poking fun at how just many different projects he is collaborating with Nickelodeon on.
Despite the joke, the caption of the tweet below fed the fire and by this afternoon, there was even a CHALLENGE from the original Blue's Clues host Steve Burns for Cena to wrestle him for the role. That, too, seems to be a tongue-in-cheek comment but c'mon... who wouldn't pay to see that smackdown?!
So WHO exactly will host the new Blue's Clues? Not even Nickelodeon knows yet! That's because they are holding new host auditions next month just north of Los Angeles in Burbank, California.
Listen to Scott on NOW 105.7 weekdays from 2-7 PM.
Read Jason Lynch's full Adweek story
Photo: Getty Images - Bryan Bedder

Scott
Want to know more about Scott? Get their official bio, social pages & articles on NOW 105.7!
Read more