Would You Wear Snapchat Spectacles?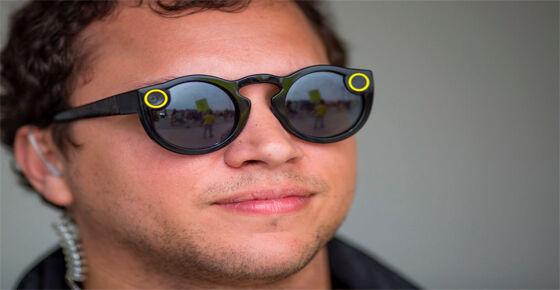 Snapchat just dropped a new version of their Spectacles, which are sunglasses with a build-in camera that can also post to the app.
The version 2 Spectacles are different from the first generation in several ways:
1. The yellow ring around the camera (Spectacles V1 pictured above) has been removed
2. Audio recording quality has been improved, especially the sound of wind when recording on the move
3. Spectacles V2 can be used underwater
4. Snaps transfer 4 times faster from Spectacles V2 to the Snapchat app
5. Exports to the app are now ALWAYS in HD
What do you think? Would you wear Snapchat Spectacles V2?
Scott's take:
Pros: The first person perspective Spectacles provide makes them a truly unique hands-free way of sharing your adventures with the world. The durability of version 2 makes frequent use far more feasible and adding in the ability to capture still images is a huge plus.
Cons: As was the case with Google Glass, Snapchat Spectacles run the risk of allowing users to violate the privacy of others by recording them against their will. The removal of the yellow ring around the lens LOOKS better, but also makes it less apparent to others that you're wearing a camera.
Listen to Scott on NOW 105.7 weekdays from 2-7 PM
Photo: Getty Images

Scott
Want to know more about Scott? Get their official bio, social pages & articles on NOW 105.7!
Read more